Update: July-August

Welcome to the premier performance of my new MASS ROMANUM with The Panasonic Choir in Osaka, Japan, Sept. 7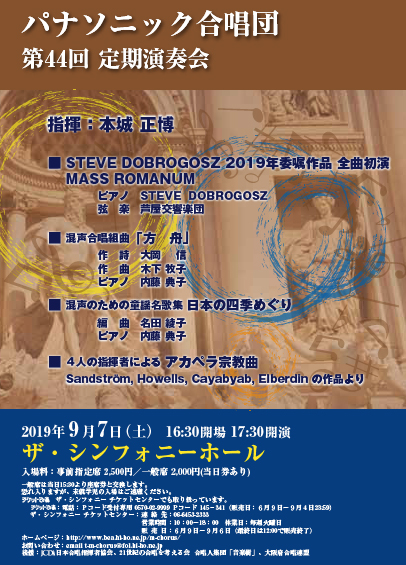 Recently completed:
Rocking Chair - 2 hours of rock'n'roll piano. Release autumn 2019.
Amen Magna - commission from Coro Musicanova in Rome, for double-choir and piano
Ave Maris Stella - commission from Elizabeth College in Hiroshima, for mixed chior
Amadeus for piano and string quartet, in the style of Mozart (somewhat).
Mass Romanum - commission from the Panasonic choir in Osaka, Japan. Premier September 7.

Latest release: PIANO. Solo albums Dreams, Stream, Silencer and Forest have been removed from digital stores and are now included in an 8-hour "box set" titled PIANO along with a previously unreleased album Singing and several new recordings - including Schubert Variation (below, with free-to-download sheet music)

About Spotify playlists: There are currently only 5 "official" (= approved by me) public Dobrogosz playlists at Spotify:
Dobrogosz - personal favorites
Dobrogosz - Vocal
Dobrogosz - Piano
Dobrogosz - Band
Dobrogosz - Choir

Please give these a whirl, as their visibility is determained largely by view count.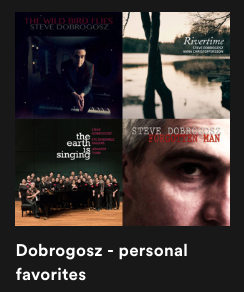 Schubert Variation (sheet music)



New piece:


22 new tracks added to two of my album favorites, Forgotten Man and The B3z - up now at all streaming sites



from Norway:



from Italy:



from South Korea:



from Indonesia:



from Cyprus:

from Chile:



from Japan:



from USA:


from the Netherlands.




from the Divertimenti album: