from latest album: MOOD
Hearing things the way I do, I've never been able to pick out the "hits" from any given album or songlist, so it's always interesting to see which tracks strike a chord. In the US, the most streamed tracks from the MOOD album are Shanana, Dance Real Slow, and Skin and Bone.

2020 was extraordinarily productive in terms of new recordings - over 6 hours, including Mood, Corona, Yuletide, 1956-Memoirs, Valse de Solitude. No major choral or orchestra pieces, but a bucketload of new charts and songs. Work is well underway on a new concept album (which will form a trilogy with Rocking Chair and Mood) and I have a couple large composition projects in mind I hope to get to before long.

NEW IN THE SCORE SHOP:

Songs for Tenor (10 pieces arranged for tenor and piano)
Including A Summer's Day, Sun In My Eyes (from 6.40), Wisteria, and This Land (demo)

Chambers and Twilight Melodies for piano are now together in a single volume.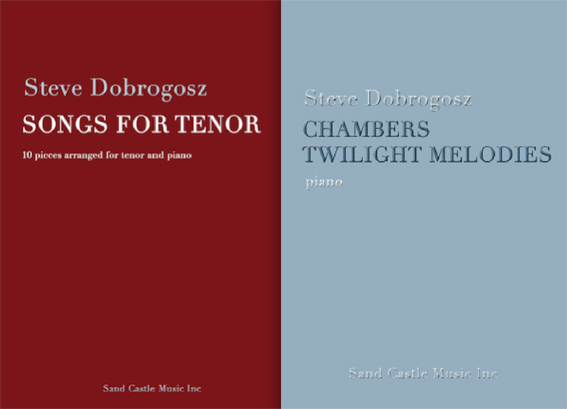 We're making changes in the Sand Castle Score Shop. Songbook and Charts are now out of print. Songbook will be replaced with separate vocal collections, such as the Anthology book containing all 45 songs recorded with Berit Andersson (on the compilation album Anthology). Charts: single sheets of my jazz/pop charts will now be available free of charge upon request (of specific pieces) as pdf. See the Jazz Page.

New in 2020:
MOOD - album release October
CORONA - album release September
YULETIDE - album release November
32 new "charts" (see albums Corona and Mood)
20 new charts for follow-up album to Rocking Chair and Mood (2021)
Buonaratti - a suite of Michelangelo's sonnets, for tenor and guitar
Songs for Tenor - 10 personal favorites arranged for tenor and piano
1956 / Memoirs - piano album (for YouTube release only)
Marches - 3 new pieces for the Marches folder for 4-handed piano
Valses de Solitude - for piano