Update: July


NEW: Songs for Tenor (10 pieces arranged for tenor and piano)
Including A Summer's Day, Sun In My Eyes (from 6.40), Wisteria, and This Land (demo)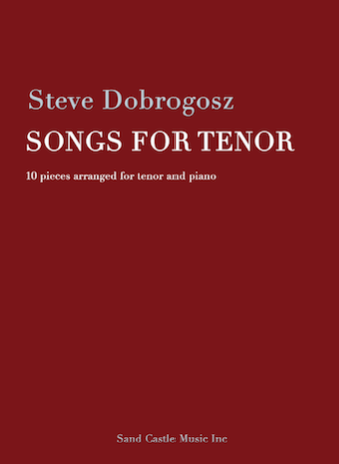 from South Korea:


from Germany:


Latest album - ROCKING CHAIR:





In 2020 we'll be making reorganizations in the Sand Castle Score Shop. Songbook and Charts will be going out of print. Songbook will be replaced with separate vocal collections, such as the new Anthology book containing all 45 songs recorded with Berit Andersson (on the compilation album Anthology). Charts: single sheets of my jazz/pop charts will now be available free of charge upon request (of specific pieces) as pdf. See the Jazz Page. Chambers and Twilight Melodies for piano are now together in a single volume.




New: Mass Romanum Page

The last time I released a physical CD was the 2010 Elton John tribute "Your Songs". Each new recording since then has been distributed only as digital download/streaming. With the new Rocking Chair, over 40 hours of original album music have been uploaded since 2010.

About Spotify playlists: There are only 5 "official" (= approved by me) public Dobrogosz playlists at Spotify:
Dobrogosz - personal favorites, Dobrogosz - Vocal, Dobrogosz - Piano, Dobrogosz - Band, Dobrogosz - Choir

New music:
MOOD - (ambient atmospheres for the amorous), album release fall 2020
35 new "charts" (see In God We Trust, above)
Buonaratti - a suite of Michelangelo's sonnets, for tenor and guitar
Songs for Tenor - 10 personal favorites arranged for tenor and piano
1956 / Memoirs - piano album (for YouTube release only)
Marches - 3 new pieces for the Marches folder for 4-handed piano