Spotify playlist: "Dobrogosz - 50 favorite tracks"


Update: January

Check out the new Spotify playlist (above) for my selection of favorite tracks stretching from now to the 80s.
Work will begin soon on a new Mass of sorts, but with a quite different theme and musical twist.
Speaking of which, the orginal Mass album recording from 1997 is just up at YouTube.
Also soon - a live choir album "The Earth Is Singing" with Singapore's SYC Ensemble Singers.
Being prepared for release later in 2018: "Divertimenti" - everything but the kitchen sink including the kitchen sink...

WISTERIA
Sandman sleep, we can ride your field together
Soft and deep, flaxen ponytails of heather
Ride, ride where pixies rhyme inside a planted pot
Floating sheep there to greet us with an apricot
Look, our grand galaxy inside a pumpkin
Look, our reality now only an assumption
And when the phoenix standing guard unveils his feathered sword
And for a paper nightingale the zephyrs play a long lost chord
Wisteria and no more waiting
As if the sky were ever blue
Chimeras are chimeras, too
Wisteria and juniper and honeydew
So sandman sleep, the mysteria is blooming
Time to reap, now the world no longer looming
Fly, fly where fairies glide aboard each train of thought
Fly for keeps, as we leave the earthly parking lot
(Wisteria arranged for choir/piano is now included in Choir Songs vol. 1)

New - concert recordings from Kobe, Japan, with Choir Meise and Katsuhiko Maehara (domo arigato, sugoi kata des!) including the first ever recording of "My Own Beloved" from 9 Arrangements:






ALBUMS 2017:

CANDLELIGHT TWO
The follow-up and completion of 2013's "Candlelight" album has just been released
iTunes preview



FORGOTTEN MAN
PREVIEW at Apple Music



Forgotten Man completes a trio of band albums, together with last year's The B3z and The Wild Bird Flies, of the kind I've been wanting to make since the 80s and now, finally have.




ANTHOLOGY - Steve Dobrogosz & Berit Andersson (1983 -1993)



SHA-LA - Steve Dobrogosz Vocal Ensemble
(this album does not appear in a "Steve Dobrogosz" search at streaming sites, but must be located under "Steve Dobrogosz Vocal Ensemble", a technical error that will be fixed next year)



Solo piano album Dreams was remastered and re-released: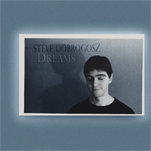 Someone has posted my entire Elton John tribute album "Your Songs" at YouTube:



A first - the track "The Moon Is A Harsh Mistress" from the 1982 album Fairy Tales with Radka Toneff has been streamed over 1 million times worldwide. We thank Robert Heinlein for the title...

recent: