MY ROSE
A concert of Shakespeare sonnets




And Sorrows End (sonnet 30)
Overture
Like To The Lark (sonnet 29)
His Beauty (sonnet 63)
Live Twice (sonnet 17)
My Speaking Breast (sonnet 23)
Being Your Slave (sonnet 57)
Richer Than Wealth (sonnet 91)
A Summer's Day (sonnet 18)

intermission

Sweet Love (sonnet 56)
Elder (sonnet 22)
Marigold (sonnet 25)
If Thou Wilt Leave Me (sonnet 90)
Interlude
Lips To Kiss (sonnet 128)
My Home (sonnet 109)
Your Memory (sonnet 55)

for mixed choir , soprano solo , alto solo , tenor solo , bass solo , 2 flutes , 2 oboes , English horn , 2 Bb clarinets , bassoon , 2 F horns , trombone , percussion , piano , strings

Steve Dobrogosz - My Rose © 2007 Sand Castle Music, Inc. STIM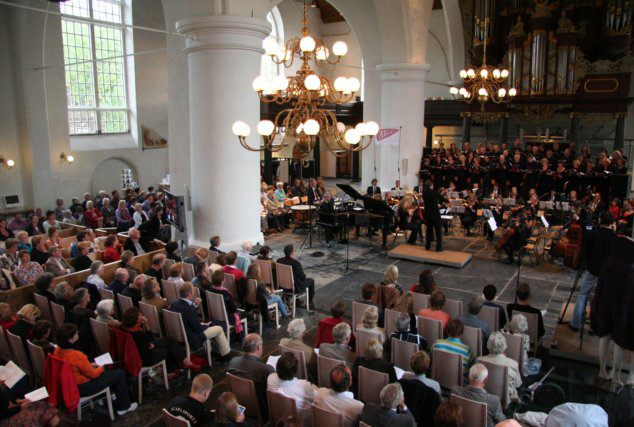 AND SORROWS END
When to the sessions of sweet silent thought I summon up remembrance of things past, I sigh the lack of many a thing I sought, And with old woes new wail my dear time's waste: Then can I drown an eye, unused to flow, For precious friends hid in death's dateless night, And weep afresh love's long since cancell'd woe, And moan the expense of many a vanish'd sight: Then can I grieve at grievances foregone, And heavily from woe to woe tell o'er The sad account of fore-bemoaned moan, Which I new pay as if not paid before. But if the while I think on thee, dear friend, All losses are restored and sorrows end.

OVERTURE (instrumental)

LIKE TO THE LARK
When, in disgrace with fortune and men's eyes, I all alone beweep my outcast state And trouble deaf heaven with my bootless cries And look upon myself and curse my fate, Wishing me like to one more rich in hope, Featured like him, like him with friends possess'd, Desiring this man's art and that man's scope, With what I most enjoy contented least; Yet in these thoughts myself almost despising, Haply I think on thee, and then my state, Like to the lark at break of day arising From sullen earth, sings hymns at heaven's gate; For thy sweet love remember'd such wealth brings That then I scorn to change my state with kings.

HIS BEAUTY (soprano solo)
Against my love shall be, as I am now, With Time's injurious hand crush'd and o'er-worn; When hours have drain'd his blood and fill'd his brow With lines and wrinkles; when his youthful morn Hath travell'd on to age's steepy night, And all those beauties whereof now he's king Are vanishing or vanish'd out of sight, Stealing away the treasure of his spring; For such a time do I now fortify Against confounding age's cruel knife, That he shall never cut from memory My sweet love's beauty, though my lover's life: His beauty shall in these black lines be seen, And they shall live, and he in them still green.

LIVE TWICE
Who will believe my verse in time to come, If it were fill'd with your most high deserts? Though yet, heaven knows, it is but as a tomb Which hides your life and shows not half your parts. If I could write the beauty of your eyes And in fresh numbers number all your graces, The age to come would say 'This poet lies: Such heavenly touches ne'er touch'd earthly faces.' So should my papers yellow'd with their age Be scorn'd like old men of less truth than tongue, And your true rights be term'd a poet's rage And stretched metre of an antique song: But were some child of yours alive that time, You should live twice; in it and in my rhyme.

MY SPEAKING BREAST
As an unperfect actor on the stage Who with his fear is put besides his part, Or some fierce thing replete with too much rage, Whose strength's abundance weakens his own heart. So I, for fear of trust, forget to say The perfect ceremony of love's rite, And in mine own love's strength seem to decay, O'ercharged with burthen of mine own love's might. O, let my books be then the eloquence And dumb presagers of my speaking breast, Who plead for love and look for recompense More than that tongue that more hath more express'd. O, learn to read what silent love hath writ: To hear with eyes belongs to love's fine wit.

BEING YOUR SLAVE (bass/alto duet)
Being your slave, what should I do but tend Upon the hours and times of your desire? I have no precious time at all to spend, Nor services to do, till you require. Nor dare I chide the world-without-end hour Whilst I, my sovereign, watch the clock for you, Nor think the bitterness of absence sour When you have bid your servant once adieu; Nor dare I question with my jealous thought Where you may be, or your affairs suppose, But, like a sad slave, stay and think of nought Save, where you are how happy you make those. So true a fool is love that in your Will, Though you do any thing, he thinks no ill.

RICHER THAN WEALTH
Some glory in their birth, some in their skill, Some in their wealth, some in their bodies' force, Some in their garments, though new-fangled ill, Some in their hawks and hounds, some in their horse; And every humour hath his adjunct pleasure, Wherein it finds a joy above the rest: But these particulars are not my measure; All these I better in one general best. Thy love is better than high birth to me, Richer than wealth, prouder than garments' cost, Of more delight than hawks or horses be; And having thee, of all men's pride I boast: Wretched in this alone, that thou mayst take All this away and me most wretched make.

A SUMMER'S DAY (tenor solo)
Shall I compare thee to a summer's day? Thou art more lovely and more temperate: Rough winds do shake the darling buds of May, And summer's lease hath all too short a date: Sometime too hot the eye of heaven shines, And often is his gold complexion dimm'd; And every fair from fair sometime declines, By chance or nature's changing course untrimm'd; But thy eternal summer shall not fade Nor lose possession of that fair thou owest; Nor shall Death brag thou wander'st in his shade, When in eternal lines to time thou growest: So long as men can breathe or eyes can see, So long lives this and this gives life to thee.

(intermission)

SWEET LOVE
Sweet love, renew thy force; be it not said Thy edge should blunter be than appetite, Which but to-day by feeding is allay'd, To-morrow sharpen'd in his former might: So, love, be thou; although to-day thou fill Thy hungry eyes even till they wink with fullness, To-morrow see again, and do not kill The spirit of love with a perpetual dullness. Let this sad interim like the ocean be* Which parts the shore, where two contracted new Come daily to the banks, that, when they see Return of love, more blest may be the view; Else call it winter, which being full of care Makes summer's welcome thrice more wish'd, more rare.

ELDER (alto solo)
My glass shall not persuade me I am old, So long as youth and thou are of one date; But when in thee time's furrows I behold, Then look I death my days should expiate. For all that beauty that doth cover thee Is but the seemly raiment of my heart, Which in thy breast doth live, as thine in me: How can I then be elder than thou art? O, therefore, love, be of thyself so wary As I, not for myself, but for thee will; Bearing thy heart, which I will keep so chary As tender nurse her babe from faring ill. Presume not on thy heart when mine is slain; Thou gavest me thine, not to give back again.

MARIGOLD
Let those who are in favour with their stars Of public honour and proud titles boast, Whilst I, whom fortune of such triumph bars, Unlook'd for joy in that I honour most. Great princes' favourites their fair leaves spread But as the marigold at the sun's eye, And in themselves their pride lies buried, For at a frown they in their glory die. The painful warrior famoused for fight, After a thousand victories once foil'd, Is from the book of honour razed quite, And all the rest forgot for which he toil'd: Then happy I, that love and am beloved Where I may not remove nor be removed.

IF THOU WILT LEAVE ME (bass solo)
Then hate me when thou wilt; if ever, now; Now, while the world is bent my deeds to cross, Join with the spite of fortune, make me bow, And do not drop in for an after-loss: Ah, do not, when my heart hath 'scoped this sorrow, Come in the rearward of a conquer'd woe; Give not a windy night a rainy morrow, To linger out a purposed overthrow. If thou wilt leave me, do not leave me last, When other petty griefs have done their spite But in the onset come; so shall I taste At first the very worst of fortune's might, And other strains of woe, which now seem woe, Compared with loss of thee will not seem so.

INTERLUDE (instrumental)

LIPS TO KISS
How oft, when thou, my music, music play'st, Upon that blessed wood whose motion sounds With thy sweet fingers, when thou gently sway'st The wiry concord that mine ear confounds, Do I envy those jacks that nimble leap To kiss the tender inward of thy hand, Whilst my poor lips, which should that harvest reap, At the wood's boldness by thee blushing stand! To be so tickled, they would change their state And situation with those dancing chips, O'er whom thy fingers walk with gentle gait, Making dead wood more blest than living lips. Since saucy jacks so happy are in this, Give them thy fingers, me thy lips to kiss.

MY HOME (tenor/soprano duet)
O, never say that I was false of heart, Though absence seem'd my flame to qualify. As easy might I from myself depart As from my soul, which in thy breast doth lie: That is my home of love: if I have ranged, Like him that travels I return again, Just to the time, not with the time exchanged, So that myself bring water for my stain. Never believe, though in my nature reign'd All frailties that besiege all kinds of blood, That it could so preposterously be stain'd, To leave for nothing all thy sum of good; For nothing this wide universe I call, Save thou, my rose; in it thou art my all.

YOUR MEMORY
Not marble, nor the gilded monuments Of princes, shall outlive this powerful rhyme; But you shall shine more bright in these contents Than unswept stone besmear'd with sluttish time. When wasteful war shall statues overturn, And broils root out the work of masonry, Nor Mars his sword nor war's quick fire shall burn The living record of your memory. 'Gainst death and all-oblivious enmity Shall you pace forth; your praise shall still find room Even in the eyes of all posterity That wear this world out to the ending doom. So, till the judgment that yourself arise, You live in this, and dwell in lover's eyes.